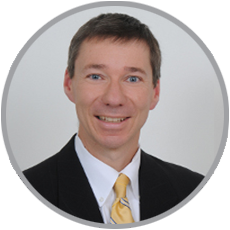 Dr. Feist is Board Certified by the American Board of Podiatric medicine. He is a native of Cincinnati's Westside, a 1983 graduate of LaSalle High School, a 1986 graduate of Miami University and a 1990 graduate of the Ohio College of Podiatric Medicine in Cleveland, Ohio. He completed his surgical residency at the VA Medical Center in Minneapolis, MN.
Dr. Feist has been practicing in Bridgetown for over 20 years. "I grew up on Cincinnati's Westside and I enjoy living and working among friends, family, and neighbors."
Dr. Feist finds it very satisfying to diagnose and treat a patient, returning them to pain-free activities. "Your foot health is always a a good indicator of your overall general health". Patients are often surprised to learn that foot pain is not normal and it can be treated and cured.
Dr. Feist is on staff at the following hospitals: Jewish, Christ, Bethesda, Mercy Fairfield, and Mercy West. He is an attending teacher in the Jewish Hospital Surgical Residency program. "I enjoy teaching and learning with the residents. The interaction keeps me up to date on the latest procedures and techniques".
Dr. Feist is a member of the American Podiatric Medical Association, the Ohio Foot and Ankle Medical Association and the Southern Ohio Academy of Podiatrists.
Dr. Feist is married with four children, three boys and one girl. He is an active member of St. Ignatius Parish where he has coached basketball and baseball for several years and stays active playing basketball and softball.
Dr. Feist's love of sports and activities has influenced his practice with special interest in sports medicine, surgery, exercise, and diabetes. "I like my office to have a warm, family and friendly feel where patients are comfortable to receive the best medical care".
Dr. Feist's office is located in Bridgetown.